Are you planning on taking the WAEC exam? This article on WAEC Registration 2022: When Is WAEC Registration? is a guide that discusses everything you need to know about WAEC Nigeria, while answering any questions you may have about other aspects of the exam.
As a prospective candidate you should know that although waec 2022 exam hasn't officially started, keeping yourself preinfromed is important as it not just familiarises you with concepts of the test so that you will be prepared for it, but it also reduces the likelihood of you making the common mistakes first time candidates usually make.
That being said this article contains general information on areas like waec registration for 2022, date for 2022 waec timetable release, exam commencement date, how the form is being sold, how to use the waec site for registration, checking waec result and other frequently asked questions about WAEC registration 2022. 
Read Also: JAMB Registration 2022: When is JAMB 2022 Registration Starting?
Article Content:
What Is WAEC?

2022 WAEC Exam Date

WAEC 2022 Form Price

How To Fill The WAEC Form 2022

WAEC Registration 2022 

WAEC 2022 timetable

How To Check WAEC Result 2022

Frequently Asked Questions About WAEC Registration 2022
Read: CBN eNaira Registration Platform - How To Use eNaira to Send and Receive Money.



What Is WAEC?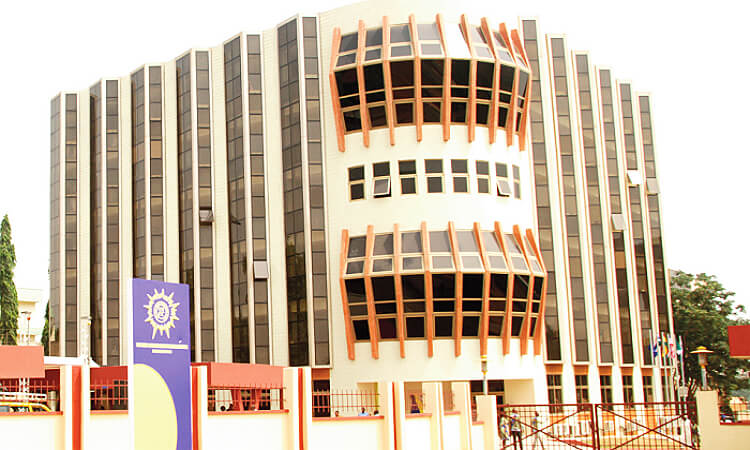 While you may have already heard about WAEC once or twice from a teacher at school, we will still start off with a simple definition of what it means. The acronym WAEC stands for West Africa Examination Council,  it is also the name of the appointed council that administers the exam to candidates. 
On the other hand, West African Senior School Certificate Examination or WASSCE, is a standardized test administered to students at the senior secondary school of which they'll receive a certificate to signify their graduation from school. 
There are 5 member states that take the WAEC examination, they are Nigeria, Ghana, Sierra Leone, The Gambia, and Liberia.
WAEC Portal 2022
The WAEC Portal 2022, is simply the official website of the examination council where candidates can make enquiries, and get assistance with information regarding the upcoming exams.
Additionally, on the WAEC site candidates can register for exams, check their results, and get updates straight from the council. Use this link to visit the WAEC website.
2022 WAEC Exam Date
If you are asking "When is  2022 WAEC Exam Date?" Then you should know that the date for 2022 WAEC exam is scheduled for 9th May, 2022 till 20th June 2022. It is important to know this date beforehand, so that you can prepare accordingly ahead of the the exam.
WAEC 2022 Form Price
The WAEC 2022 form price is N18,000, it was increased from N13,950 to this price. In order to complete the waec registration, candidates first have to get and then fill the wassce 2022 registration form using their personal details. 
How To Fill The WAEC Form 2022
Go to the registration portal.

Buy the WAEC Form 2022

Find the  "General Information" section.

Click on  "Registration Form"
Fill The Form's  Biodata Section:
Name

Gender

Disability Status (where applicable)

Marital Status

Maiden Name(where applicable)

Date of Birth

Nationality

State of Origin
Contact Information: How can WAEC contact you? Put it down
Telephone number

Email address
Residential Information: Where do you live? 
Postal Information: If WAEC ever wanted to mail a document to you via post, where should they send it to?
Examination Location: Where will you be taking the exam?
Exam State

Select "Preferred Examination Town"
Examination Subjects: Which subjects will you be taking for the exam?
Select 6 or 7 other subjects, in addition to the WAEC compulsory subjects, English Language and General Mathematics.
Please note that whatever information you input into this form is what goes into the record for your wassce 2022, so you would want to be careful. To fill the waec online form, you can follow the step-by-step guide we have laid out above.
WAEC Registration 2022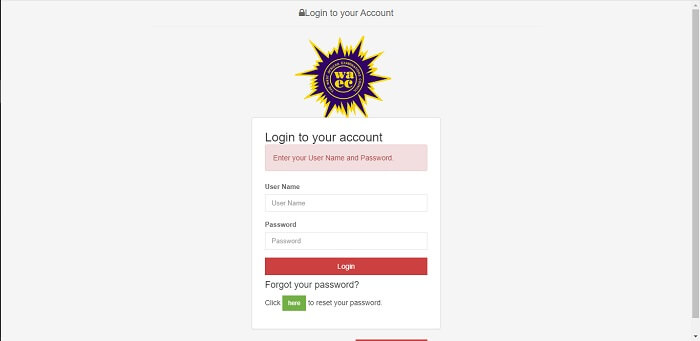 The WAEC 2022 registration date has been approved by the West African Examination Council (WAEC) as 8th February 2022 as the official date for WAEC registration 2022. The WAEC registration 2022 deadline is on 30th April 2022.  To help you prepare, we have outlined the processes for registration of waec 2022.
The complete WAEC registration 2022 requirements are:
National Identity Number (NIN).

Subjects you want to register.

Copies of your passport photographs.

Address.

WAEC ePin.

Personal information requirements for WAEC registration include:

Your full name.

O.D.

A valid email address.

Your state of origin and local government area.

Exam state.

Your nationality.
Registering for WAEC is not difficult at all, and as long as candidates follow the stated guidelines the process should go over smoothly. In this section, the steps on how to complete registration for WAEC 2022, have been highlighted below:
Get your National Identification Number (NIN) ready.

After you have gotten your registration pin, visit the WAEC registration portal to register.

Scroll to "General Information".

Click "How to Register", to get the registration rules from WAEC.

Click "Available Subjects" to see the full list of subjects to be taken for the exam.

Tap on "Available Exam Towns" to get and select the full list of WAEC exam towns.

Click on "Biometric Data Capture Software" to download the WAEC Biometric Data Capture Software.

Download the registration form, click on "Registration Form".

Choose "Registration Pin/Code" to download the registration Pin/Code.
How Much Is WAEC 2022 Registration Fee?
WAEC 2022 Registration fee is Eighteen Thousand Naira (N18,000). 
How To Pay WAEC 2022 Registration Fee?
Pay the WAEC 2022 Registration Fee of N18,000 to any of the banks below:
Access Bank PLC

First Bank of Nigeria PLC

Sterling Bank PLC

Zenith Bank PLC

Diamond Bank PLC

Skye Bank PLC

First City Monument Bank (FCMB) PLC

Guaranty Trust Bank PLC (GTBank)

Union Bank of Nigeria PLC

Eco Bank Limited

United Bank of Africa Limited (UBA)

Stanbic IBTC Bank Limited

Fidelity Bank PLC

Heritage Bank PLC

Standard Chartered Bank PLC

Wema Bank PLC

Unity Bank PLC. 
General WAEC Registration Guidelines
Whether you are a School, Private/External, or a Disabled candidate registering for the WAEC 2022 examination, these are the additional guidelines to follow for the WAEC 2022 registration:
Complete the online registration within 2 weeks.

Go-through all the inputted information you provided like name, date of birth, gender, subjects chosen, etc. to make sure they are correct.

WAEC will not be liable for any mistakes you make during registration, so ensure you double check all your details, before inspection begins.

Print your WAEC Photo Card to use as proof of the registration, and for identification in the exam hall. Keep in mind that the Pin for WAEC 2022 result checker will be on the Photo Card so do not misplace it.

Make sure you bring your Photo Card to the exam hall.

Disabled candidates should clearly indicate their disability, blindness, speech or hearing impairment, etc.

Use only a Digital Personal Scanner to do your fingerprint registration.

View the Information VCD before registering for the exam.

Submit your entry with a passport that is 275 X 314 Pixels in size, and must not be taken in a blue or red background.

Read and understand the WAEC regulations, syllabus, and timetable. These items can be gotten by putting your Registration Pin on the WAEC website.
Related: How to Register for Coronavirus Vaccination in Nigeria - Registration Form for COVID-19 Vaccination.
 
WAEC 2022 Timetable
If you've asked the question "when will time table for WASSCE 2022 exam be out?", then you should know that WAEC usually releases the timetable few weeks to the start of the examination. You can expect to see WASSCE Time Table for 2022 on the WAEC portal once it has been created and released by the council.
However, we have left the WAEC Timetable For 2022 format  for you to show what it contains below: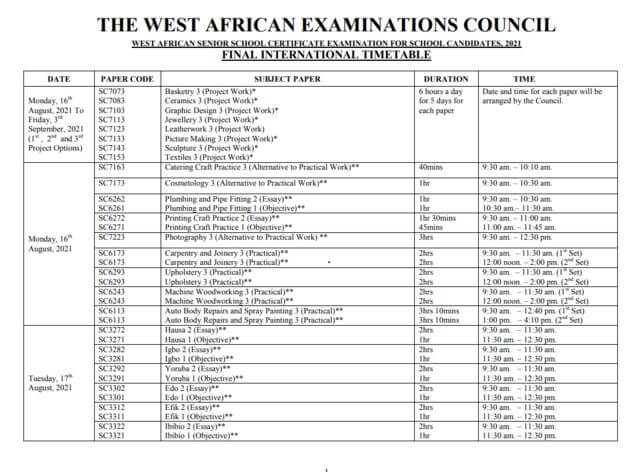 An outline of all the subjects to be taken for the exam.

The day, date, and time for each subject exam.

Duration of each subject (when it starts and when it will end).

Paper Type, this discloses if the exam will be theory or practical, or essay or objective.
The waec time table 2022 to 2023 is a guide that helps candidates know which days they will be required to come in for an exam. Other ways the waec time table for 2022 also assists you are:
It helps you create an effective study timetable.

Gives you enough time to prepare for each exam.

It curbs the confusion usually associated with the stress of writing the test.

It helps you know what to expect from the exam.

???????
How To Check WAEC Result 2022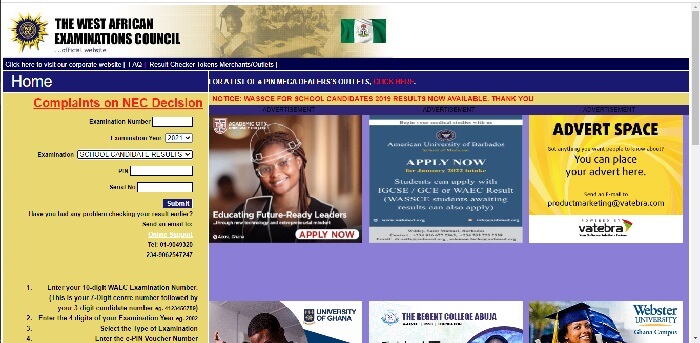 After sitting for the WAEC exams, new candidates are usually confused as to how to check their WAEC result. So, if you have ever asked "when will the WASSCE 2022 results be out?" we have prepared a guideline on how to check the 2022 waec result:
Checking Via The WAEC Result 2022 Portal:
Visit and log into the WAEC online result checker and follow the stated format.

Input your 10-digit WAEC Examination Number. The number is a combination of the  7-Digit centre number and the 3-digit candidate number. 

Type in the 4 digits of the Examination Year, in your case it would be 2022.

Select Examination Type. 

Input your e-PIN Voucher Number; this is the Personal Identification Number.

Tap the "Submit" button and wait to be redirected from the WAEC checker to the result page.
Checking Via Text Message:
Send WAEC*ExamNo*PIN*ExamYear to 32327 on MTN or Glo (only).

Follow the exact format given, and do not put space between the texts.

After the message, your wace results 2022 should be delivered to you via your network provider for N30.
After your checking the WAEC Result 2022, on the waec result checker 2022, you might want to keep a copy for yourself. You can follow the steps below to download the WASSCE result 2022:
Press Control+P on the Computer or Laptop. 

Locate the option to "Save as PDF"and click on it.

The PDF version of your WACE results will be downloaded to the device.
If you can't find your result for WAEC 2022 on the WAEC checker 2022, what you can do is:
Recheck for the result, but this time ensure that you put in the correct details.

Come back in a few weeks, by then the result should be out.

Go to any WAEC office close to you and lay your complaints for proper rectification.
Also Check: Types of Learning Styles.
Frequently Asked Questions About WAEC Registration 2022
These frequently asked questions about WAEC, cover some of the burning questions other candidates like you have had about the exam and answers to them, so that you can clarify your own doubts as well.
1. When Is WAEC Registration?
WAEC Registration 2022 is scheduled to be held from 15th February to 30th of April 2022.
2. Who Can Register For WAEC 2022?
The Federal Government and the West African Examination Council of Nigeria has directed that only senior secondary school 3 (SS3) students can register for WAEC 2022.
3. Did WAEC Increase The WAEC 2022 Registration Form Price?
Yes, the WAEC 2022 registration form fee was increased from N13,950 to N18,000.
4. How Much Is The WAEC 2022 Registration Form Sold?
The WAEC 2022 Registration Form is now sold for N18,000.
5. Can WAEC Registration Be Done Online?
Yes, you can do the WAEC registration 2022 online. 
6. Where Can I Register For 2022 WAEC Examination?
External / private candidates for WAEC can register for the exam on this official WAEC portal.
Internal school candidates can use this registration portal.
7. Where Should I Pay My WAEC 2022 Registration Fee?
Payment for the WAEC 2022 Registration can be made to an authorised agent, or in the bank.
8. Does WAEC Prepare Candidates To Take Their Exams?
No. The duty of the council is to merely administer the test and as such, WAEC does not prepare candidates to take their exam by establishing secondary schools or teaching centres. WAEC does however provide feedback to schools or private candidates about their previous performances using the Chief Examiner's Report so that they can prepare properly for future exams.
9. How do I Register for WAEC?
There are two entry periods you can join for the exam. The first one happens in May/June for school candidates, and the second one happens in October/November for private candidates. Both registrations can be done online, private candidates can do their registration by themselves, while school candidates can have their registration done on their behalf by their schools.
10. When Will the WAEC 2022 Time Table Be Out?
WAEC has not given a date for the WAEC 2022 Time Table, however candidates can expect to get it after the registration is concluded.
11. Where Can I Find The WAEC Timetable 2022?
The WAEC Timetable 2022 can be found online on the WAEC website, along with the regulations and syllabus. You can input your Registration Pin to get it.
12. What Does The WASSCE Time Table 2022 Contain?
In your time table for waec 2022, you will find information like subjects to be taken, as well as day, dates, and duration of the exam. You will also see the examination type.
13. When Can I Check My WAEC Result 2022?
You will be able to check your WAEC result only after the examination has been concluded. The council will announce the date.
14. I Want To Check My WAEC Result Where Can I Do That? 
You can check the WAEC result 2022 on the waec result portal. 
15. Will The Subjects I Registered For Appear On My WAEC Certificate?
Yes, the grades of whatever subjects you registered for during WAEC is what will appear on your original WAEC certificate. Other personal details like your name, gender, and date of birth will appear as well.
 
Dear candidate, as you warm-up for the examination, this WAEC registration 2022 article, can serve as a head start  which you can use to read up and prepare for the task ahead.
In the meantime, you can start scouting for good schools to further your studies in with the articles we have left for you below.
17 Free Universities For International Students 2022.
30 Best Universities in the World 2022.
50 Best Universities In Ghana 2022.
25 Best Universities in South Africa 2022.
20 Best Universities in Africa 2022.