Are you sitting for the JAMB exam this year? Our article on JAMB Registration 2023 will provide you with all the information you need about the exam and how to prepare for it. 
Equipping yourself with knowledge is one of the key ways you can get a headstart on the upcoming 2023 JAMB examination. This is important, as the Joint Admissions and Matriculations Board have made some new rules which will be implemented in this year's exams.
To help you stay updated, we have created this little guide where we'll also be answering other frequently asked questions candidates have about the JAMB examination in Nigeria. By reading them, you too can clear any doubts you have.
Pay attention as we discuss - how to register for jamb, when is jamb 2023 starting, how much is jamb form, the jamb 2023 registration date and other vital topics too.
Read also: WAEC Registration 2023: When Is WAEC Registration?
Article Content:
What is JAMB?

JAMB 2023 exam date

When will Jamb form be out for 2023

Jamb registration 2023

2023 JAMB literature

2023 JAMB news

How to check JAMB result

Frequently asked questions about JAMB registration 2023
What is JAMB?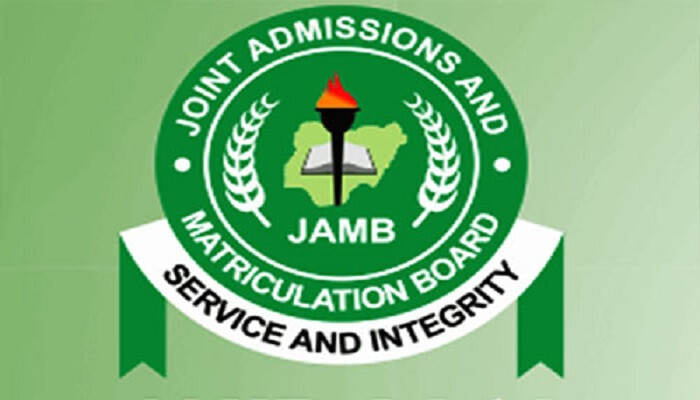 The acronym JAMB when spelt out stands for Joint Admissions and Matriculations Board. 
This board controls the JAMB entrance examination for tertiary-level institutions which is administered to measure your abilities and suitability for higher education.
The JAMB board also oversees the entrance Unified Tertiary Matriculation Examination for eligible undergraduates into Nigerian universities and conducts the same exam for applicants enrolling in Nigerian polytechnics, and colleges of education.
JAMB 2023 Exam Date
The JAMB 2023 exam date for UTME candidates and CBT is scheduled for Saturday 29th April 2023 and ends on Friday 12th May 2023.
While, UTME for all 9 foreign centres is scheduled for Monday, 30th May. Note too, that the optional mock UTME is slated for Thursday, March 16, 2023.
For students who want to know this information about the jamb exam, knowing this jamb 2023 exam date and jamb closing date 2023 will help you prepare accordingly for the entrance test.
Table Showing JAMB 2023/2024 Data and Dates
| | |
| --- | --- |
| JAMB 2023/2024 Data | Dates |
| JAMB Registration Start Date | January 14th 2023 |
| JAMB Registration Deadline | February 14th 2023 |
| Total fee for registration | N4,700 |
| Reprinting of JAMB Mock Slip | To be announced |
| JAMB Mock Date | 16th March 2023 |
| Compulsory Novel for JAMB | Life Changer by Khadija A. Jalli |
| JAMB Examination Reprinting Date | 22nd April 2023 |
| JAMB Examination Date | 29th April 2023 - Monday 12th May 2023 |
| JAMB result release date | To be announced |
JAMB Registration 2023
The jamb 2023 to 2024 registration started on Saturday, January 14, 2023, and will end on Tuesday, February 14, 2023. 
But, this jamb 2023 registration closing date does not apply to candidates registering for Direct Entry (DE) applications, as registration for this category will start from Monday, February 20 to Thursday, April 20, 2023.
In addition to this information, we have also listed some requirements and procedures for a successful JAMB UTME registration.
JAMB Registration Requirements For 2023
The complete list of general jamb registration requirements for 2022 have been listed below:
Minimum of O'Level credit pass in 5 subjects acquired in not more than two sittings with at least 2 compulsory subjects (for each discipline) at Principal or Advanced level. No subject will be counted twice at the Ordinary and Advanced Level.

Two passes in (compulsory subjects for each discipline) at the Advanced-Level Examination of IJMB, Cambridge, JUPEB or Institute of Baccalaureate with SSCE/GCE, NTS/NBC credits equivalents in three other subjects.

Passes in 2 major subjects in the NCE with S.C.E, NTC/NBC credits or equivalents in Three other subjects (mostly for Education Courses) and ND. Education courses can be accepted as a third A' Level subject.

Minimum of lower credit grade in National Diploma or National Innovation Diploma and the O'Level requirements.
Other general requirements for jamb 2023:
National Identity Number (NIN)

A valid email address

JAMB profile

Personal phone number

Your full name

Date of Birth

JAMB E-PIN

Passport photograph
JAMB 2023 Registration Fee
The standard jamb 2023 registration fee amount is ?4,700. This fee includes reading text, and other documents like the syllabus and Brochure. 
Another fee candidates will pay ?700 which covers your online registration centre service charge and two printed copies of your e-slip. But, don't worry this ?700 is part of the ?4,700.
JAMB Profile Creation
To register for JAMB, you'll need first need to create a 10-digit profile code. This concept of  profile code, was newly introduced by JAMB, and we have explained how it works below:
Use your unique phone number (SIM). This number can only be used by one candidate and will serve as your unique identification for all transactions you do with the board.

Next, send your National Identification Number (NIN) by text to 55019 or 66019. To do this - type the word ''NIN" then space and include your 11-digit NIN (NIN 00123456789).  Don't use a postpaid or special bundle SIM card for this; they don't work unless you load them with credit.

You should receive a 10-character Profile code on the same mobile number you used.

The phone number you use for the text message will be automatically linked to your 2023 application, Examination, and Admission.

The Profile code will be submitted when you're procuring the form at Banks, MMOs, MFBs, Switches, and USSD Partners. The form ePIN will then be sent as a text message to your phone number.

Note: the Profile code SMS, costs N50 to create.
Mistake or Loss Of Profile Code
If you've made a mistake in the profile code generation or lost the code given to you, this is how you can retrieve it:
Retrieve a lost profile code - send [RESEND] to 55019 or 66019 as a text message from the same phone number.

Reset lost or forgotten profile password - send [password] space [email address] to 55019 or 66109 as a text message from the same phone number.
How To Purchase JAMB Epin 
You can purchase the JAMB E-pin for registration from NIPOST and Sterling, TAJ, Firstbank, Polaris, Union, JAIZ, and Unity bank.
If none of these outlets is in your area, you can also use certain mobile operators that partner with JAMB to purchase your E-pin. We have listed out these operators below:
TEASYPay

Packway Projects

Xpress Payment Solutions

Capricorn Digital limited

Zazzau MFB

Paga

Interswitch (Quickteller)

Itext Integrated Services

Cloud Interactive Associates

Payvantage

Nomiworld

Cottage Assests

Global Accelerex

Funds

Upperlink

System Specs (Remita)

Electronic Transfer

Unified Payment Services (UPS)

JAMB Multi-Purpose Cooperative Society

Digital Partners Network

PayCom
Foreign candidates who do not reside in Nigeria but want to sit for the JAMB exams, should visit the Nigerian Embassy in their countries for guidance on what to do.
After you've gotten your profile code, go to any of the banks we've mentioned and give the code to them. They'll use this code to process your form and you'll then get your JAMB E-pin via SMS.
When you get your JAMB E-pin, visit the nearest JAMB-accredited centre and complete your registration.
Responsibilities of Participating Banks / Outlets:
Accept the Profile Code from your phone.

Collect payment and send the JAMB E-pin via SMS to your phone. 

Issue Evidence of Payment.

Ensure candidates get the ePIN on their phone only. They shouldn't write it down.
6 Ways You Can Pay For The JAMB E-Pin Registration
There are several ways candidates can pay for the jamb 2023 registration, we have mentioned them:
Banks And Micro Finance Banks
Submit the profile code and pay with cash or through an e-wallet. The amount to be remitted is N6,700 with Mock or N5,700 without Mock for UTME; Direct Entry is N4,700.

The ePIN will be sent to your unique telephone number.
POS
The payment through POS is available at State Offices of JAMB + CBT Centres, or other POS outlets and CBT Centres that request it.
Present the Profile Code and pay by card.

ePIN is sent to your unique telephone number.
Mobile Money Operators
Show your Profile Code and pay cash.

The money operator will deliver the ePIN to your candidate's unique telephone number.
ATM - use ATM outlets of all the partner banks listed in C (I) (InterSwitch Channel)
Choose Bill Payment and choose JAMB.

Enter the Profile Code and pay.

The ePIN will be sent to your unique telephone number.
Online Payment On JAMB Portal
Visit the JAMB website 

Select Purchase of 2023 Application Document.

Put in your Profile Code.

Select Payment Method (InterSwitch or Remita).

Make payment.

The ePIN will now be sent to your unique telephone number.
Foreign Centres
Candidates registering for JAMB from the nine foreign countries will pay a fee of $20 or its conversion into their local currency. They can follow these steps to register:
Download the Application from the Board's website.

Complete and send it with the $20 fee at the nine selected centres as shown on the website.
OR
Visit the JAMB eFacility webpage. 

Create a profile.

Log into the profile.

On the menu on the left side, click on 2023 Foreign UTME/DE registration.

Answer the guided questions until you reach the payment page.

Pay using any of the authorised cards.

Complete the registration online.
JAMB Registration 2023 Process
Dates for the jamb registration 2023 are from January 14, 2023, to Tuesday, February 14 2023, while Direct Entry candidates' registration is from Monday, February 20 to Thursday, April 20 2023. 
All JAMB candidates whether Nigerian or foreign are expected to pay the jamb 2023 registration fee to selected banks or outlets authorised by JAMB.
Every JAMB candidate has a different registration process, depending on their category (you'll understand this as you read further. 
To help with the registration, we have outlined the processes for registration of jamb 2023, no matter your type of candidacy.
Direct Entry / UTME CBT Centre Registration
JAMB candidates should visit only an accredited Computer Based Centre and Professional Registration Centre with their Profile code and ePIN.
You must present these items yourself at the CBT so that your photograph and biometrics for all 10 fingers will be captured.
Follow these steps to register:
Submit your choice of institution and programme of study.

If you are not awaiting the result, provide the qualification with grades and dates.

Both UTME and Direct Entry candidates should upload relevant certificates (if you are not awaiting the certificate).

Submit O'Level and A'Level grades. If your result is not out yet, upload it online on CAPS (JAMB) as soon as you have it on JAMB's portal.

Direct Entry students only, should provide a JAMB registration number for previous institutional certificates.

UTME candidates should submit UTME subjects and their choice of examination town(s). 

Mock examination (optional).

Examination for UTME.

Review your answers and confirm their correctness.

Print the Registration Slip by using Biometric Authentication to confirm a valid fingerprint (UTME/DE). Authenticating with your fingerprints absorbs CBT centres of all blame in case of an error. So, double-check before confirming your fingerprints.

Collect the reading text, at no extra cost.

Collect your e-slip after registration as evidence that you have registered.
Blind Candidates Registration
Blind candidates can be indicated as such by typing BLIND and choosing to either write their exam through CBT or Read the Examination Aloud.

After a candidate identifies as blind, they can choose from a drop-down menu which town is closest to them, so that they can write their exams there. Towns available for blind candidates are - Abuja, FCT; Bauchi, Bauchi State; Benin, Edo State; Ekiti, Ekiti State; Enugu, Enugu State; Kano, Kano State; Kebbi, Kebbi State; Lagos, Lagos State; Oyo, Oyo State; Plateau, Plateau State; Yola, Adamawa State.
Deaf/ Mute Candidates
During the registration, they are to confirm this correctly.

Deaf / Mute candidates after identifying as such, will be given special attention at the examination hall. 
Biometric Challenges
Candidates who have challenges with their biometrics can register only at the JAMB headquarters in Abuja.

No other CBT centre is authorized to register these types of candidates. 

Candidates like this will also sit for their JAMB examination at the JAMB Headquarters in Abuja.

If your biometrics is not verified, you will not be allowed to enter the examination hall or sit for the examination.

Any examination without biometric verification will not be permitted or processed by the system.

Candidates with abnormal biometrics can register and take their examinations only at the Abuja headquarters of the Board. The travel will be sponsored by the Board.

You will sit for the exam in Abuja on the final day of the national examination calendar if you have Biometric challenges.
Note: A N700 payable service charge will be paid to the Board for CBT registration, including a UTME (Examination) fee of N2000 (including mock) or N1000 (without mock). You shouldn't pay any extra fee to the CBT centre you use.
General JAMB Registration Guidelines 
Candidates taking the jamb exam for the first time, might get overwhelmed with the whole registration process. 
If this is you, these jamb registration guidelines can help:
You must register your profile via text message before you buy the ePIN.

The JAMB registration fee is non-refundable.

You are advised to read and understand the guidelines on admission and instructions displayed on the scan QR Code, on how to complete the online registration before you start the process. You should sign an MoU on ethical standards too.

Multiple registrations are not allowed. If you register more than once, you'll be identified, disqualified and prosecuted.

No matter your programme of choice, you will be tested on a general text too: 'The Life Changer' by Khadija Abubakar Jali. You are expected to read the text.

You will not be permitted to enter the examination centre with any gadget or pen. Only a pencil is allowed.

Be warned, the Board does not need or authorise the services of any cyber cafe, school, or establishment except the verified CBT centres for this exercise.

Participating in examination malpractice, attracts the cancellation of results, publication of names, and prosecution.

Present your ePIN at any JAMB-accredited CBT Centre for registration.

Application is not complete until your biometric of all 10 fingers is captured and you are photographed in person. After your biometric has been successfully captured, you can print your e-registration slip. Any other transaction you do with JAMB on your profile will require a fingerprint.

On the examination day, you will be permitted to sit for UTME only if your biometrics is successful. Your parent or proxy is not allowed to transact on your profile.
When Will Jamb Form Be Out For 2023?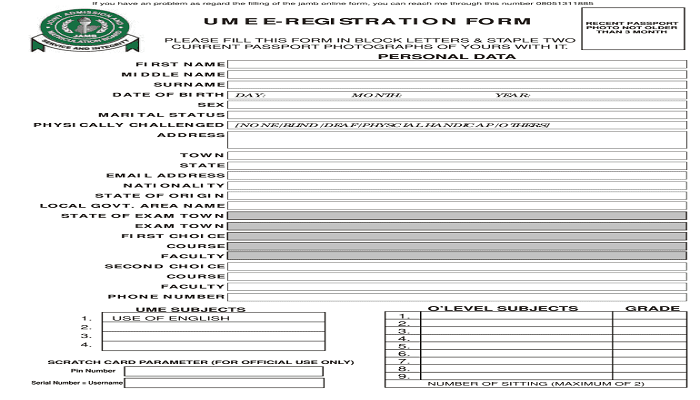 Is the JAMB form out for 2023? Yes, the sales of the JAMB form 2022 have already begun on January 14th 2023, which is the official registration date for this exam. 
Candidates have already started filling out the form ahead of the jamb 2023 exam and the process is already in full swing. The form is on sale on the official jamb website and this exercise will run till February 14 2023.
If you have not done this already, this step-by-step guide on how to fill the 2023 jamb registration form correctly without making mistakes.
When filling in your jamb form, you should follow the following procedures:
Creating your NIN
The first step is to register and get your NIN ready.
Creating your JAMB profile
After getting your NIN, the next step is to link it to your JAMB profile.
Subject Combination Choice
In this step, you have to select your subject combination.
Institution-choice Selection
In this step, the applicants have to choose four institutions.
Choice of Course Selection
At this stage, the candidates will be required to choose the courses they wish to aspire for in each of the institutions chosen in step four.
Exam centre Region Selection
This is the stage in which you have to choose the region in that you want JAMB to give you a CBT centre for your exam.
Also when filling in your personal details in the JAMB registration form, you should do it the proper way. See how to fill in personal details (bio-data) in the JAMB form:
First, Middle and Surname: This should be arranged properly in the order shown on the registration form

Date of Birth: Your date of birth must include the day, month, and year in this order DD/MM/YY

Sex: Select if you are male or female

Marital Status: Choose whether you are single, married, or divorced

Disabilities: If you have any disability, then indicate it here else, skip or select none

Address: Supply requested address/addresses

State of Origin: Select the state you come from not the state in which you reside in

G.A of Origin: Fill in the name of the local government you come from.

Country/Nationality: If you are non-Nigerian, select your country.

Email: Enter your registered email address

Phone Number: This should be an active phone that is linked to your NIN.

Guardian/Sponsor(s) Name: This should be the name of either your parents or anyone that is your sponsor.
How much is the 2023 JAMB Form?
If you want to know how much is jamb form 2023? The total JAMB form 2022 is Four Thousand Seven Hundred Naira (N4,700) only.
Here is the breakdown of the cost price of N4,700:
JAMB 2022/2023 registration form: N3,500

Also, JAMB CBT 2022 registration fee: N700

JAMB 2022/2023 textbook: N500

Total: N4,700.
If you wish to sit for the JAMB mock exam, then you'll pay an extra N1,000 fee.
How To Buy 2023 JAMB Form
Follow these instructions carefully to successfully get your JAMB UTME form:
DE and UTME candidates should pay the registration fee of Three Thousand Five Hundred (N3,500) plus the extra Five Hundred Naira (N500) for the reading text ''The Life Changer". 

Foreign candidates from the nine foreign countries are to pay $20.

Note, ePINs bought are tied to your individual profile and cannot be transferred.

Keep security details like registration numbers, passwords/numbers of ATM Cards, email addresses, and ePINS private and confidential. No centre is permitted to request or accept your password.

You cannot register more than once. If there is an error with your registration, you should request a correction from the Board and not start a fresh application, as you'll be sanctioned for it.

Your parents, guardians, or proxy are not allowed to use your profile for any business. Every activity on your profile and the registration process is monitored by the board. Any defaulters of this rule will be sanctioned. Similarly, if you give your password, profile code or other security codes to a third party, you'll be liable for any alteration done by these persons. Do not give your password to anybody, even JAMB officials. Your security codes should not be demanded at any registration centre by anybody for any reason.
How To Apply For 2023 JAMB Form From Foreign Countries
The JAMB registration fee for candidates from nine foreign countries sitting for JAMB is $20 or it's equivalent when converted. 
Download the Application form from the JAMB official website.

Fill it out and submit it with the $20 at the nine centres listed on the website.

These are the foreign missions you should visit:
Abidjan, Cote D'Ivoire

Accra, Ghana

Addis Ababa, Ethiopia

Beau, Cameroun

Cotonou, Benin Republic

Jeddah, Saudi Arabia

Johannesburg, South Africa

London, United Kingdom

Berlin, Germany
You could also:
Visit the JAMB eFacility  

Create a profile and log in.

On the left side menu, select 2023 Foreign UTME/DE registration.

Answer all the questions.

On the payment page, pay the $20 using any of the available cards.

Finish the registration directly online.
2023 UTME Choice Of Institution Order
For the 2023 jamb exam, any institution can be your first choice. On the registration platform,  note your 1st choice, this can be a:
College of Education

University

Innovative Enterprise Institutes

Polytechnics/Monotechnics

NDA (Nigerian Defence Academy)

Nigeria Police Academy
2023 JAMB News
The Joint Admissions Matriculation Board (JAMB), announced that all candidates registering for the 2023 Unified Tertiary Matriculation Examination (UTME) should have a functional email address.
This announcement was made on February 2, 2023, by the head of public affairs and protocol at JAMB, Fabian Benjamin. 
The usage of email addresses for 2023 UTME registration is now compulsory, beginning from Tuesday, January 31, 2023.
According to Benjamin, using email ensures the process of capturing all necessary data relating to the candidates will be more flexible and convenient. 
But, your email address will not be used to recover passwords or changed once you register for the exam.
 Using your email will also make it easier for the Board to transmit urgent and important communication to you in a cheap and efficient manner.
Without an email address, no candidate will be registered henceforth for the jamb 2023 exam.
Another thing to note is that JAMB has taken action against e-Tranzact and suspended it from being its payment vendor for the 2023 UTME e-pins. The board did this because some of its agents especially this one have been extorting candidates registering for the 2023 UTME.
2023 JAMB Literature
The Joint Admissions and Matriculation Board has introduced new literature texts for four language subjects Arabic, Yoruba, Igbo, and Hausa, which includes;
African Prose:
Life Changer by Khadija A. Jalli

Second Class Citizen by Buchi Emecheta

Unexpected Joy at Dawn by Alex-Agyiri (2018 Edition)
Non-African Prose:
Invisible Man by Ralph Ellison

Wuthering Height by Emil Bronte
Shakespearean Text:
A Midsummer Night's Dream
African Drama:
Let me Die Alone by John K. Kargbo

The Lion and the Jewel by Wole Soyinka
Non-African Drama:
Look Back in Anger by John Osborne

Fences by August Wilson
African Poetry:
''Black Woman'' by Leopold Sedar Senghor

''The Leader and the Led'' by Niyi Osundare

''The Grieved Lands'' by Agostinho Neto

"The Song of the Women of my Land'' by Oumar Farouk Sesay

''Raider of the Treasure Trove'' by Lade Wosornu

''A Government Driver on his Retirement'' by Onu Chibuike
Non-African Poetry:
''The Good Morrow'' by John Donne

''Caged Bird'' by Maya Angelou

''The Journey of the Magi'' by T.S. Eliot

''Do not Go Gentle into the Good Night'' by Dylan Thomas

''Binsey Poplars (Felled 1979)'' by G.M. Hopkins

''Bat'' by David H. Lawrence
How To Check JAMB Result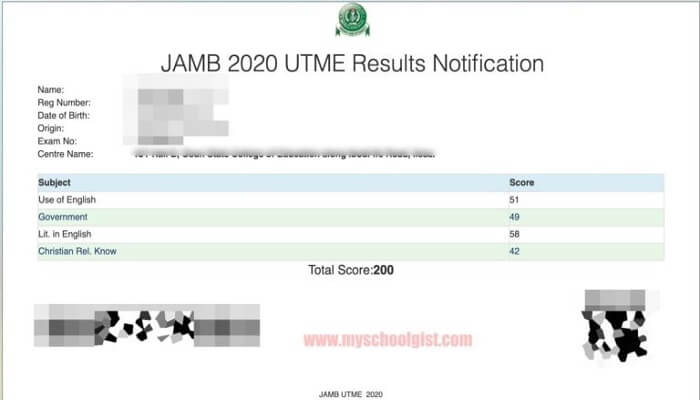 Candidates who have just sat for the UTME, may not know how to check jamb result with your registration number. 
If this is you, you can check jamb result 2023 with your registration number following these simple steps:
Checking via JAMB Result 2023 Portal:
Open the JAMB portal 

Login with your registration number

Go to the "Result Notification" tab and click on Check My Result.

Your result will immediately be displayed.
Checking JAMB Result via Mobile Phone:
Open your Mobile Browser and type in the JAMB e-facility 

Fill in your JAMB Registration number in the spaces provided.

Click on Check Results.

Your Result Slip will be displayed on your screen
After you check the jamb result with registration number 2023, you may want to print out the result for admission or just reference it. To do that,  follow the steps below to print the Jamb result.
Log on to the jamb portal e-facility 

Check for the 'Post Registration' E-facility menu and click on "Print Result Slip".
Frequently Asked Questions About JAMB Registration 2023
The section gives answers to some of the most frequently asked questions about jamb candidates like you have asked about jamb registration 2023.
Is the 2023 JAMB form out?
Yes, the jamb form for 2023 is out.
When will JAMB form for 2023 be out?
The jamb form for 2023 is already out. It was released on 14th January 2023. Meanwhile, the registration for Direct Entry candidates is from Monday, February 20 to Thursday, April 20, 2023.
What is the date for JAMB 2023?
The date for the jamb exam 2023 is on the 29th of April 2023 - Monday 12th of May 2023.
How much is the JAMB form for 2023?
The actual price for the JAMB form is N3,500.
When is JAMB form 2023 coming out?
The 2023 JAMB form is out, it came out on January 14 2023.
When is the JAMB form for 2023 closing?
The closing date for the 2023 JAMB form is 14th February 2023.
Has JAMB registration started for 2023?
Yes, JAMB registration for 2023 has started.
When will JAMB registration for 2023 start?
JAMB registration commences when the form is out. This already began on the 14th of January 2023 and will end on February 14th 2023.
When is the closing date for JAMB registration 2023?
The closing date for 2023 JAMB registration is on the 14 of February 2023. For DE candidates it's 12th May 2023.
How do I check JAMB result 2023 with registration number?
You can check your 2023 JAMB result via the official JAMB portal by visiting the JAMB e-facility.
Can I purchase my E-Pin offline?
Yes, you can! All you need do is walk into a commercial bank and purchase your JAMB E-pin from the attendant.
Is the JAMB Mock exam compulsory?
No, the mock exam is not compulsory.
If there is a mistake in my course or Institution, can it be fixed?
Yes, it can be fixed. If there is any mistake when filling in your personal information like name, gender, course, institution etc., there is a Correction of Data form created by JAMB to sort out issues like this.
Can I register for the Mock exam at a later date after JAMB registration?
No, you can't. The mock application form comes with JAMB registration form, if you submit your JAMB application without selecting the mock exam, you can't go back to change it.
Which novel is JAMB using for 2023?
The novel for the 2023 jamb exam is 'The Life Changer by Khadija Abubakar Jalli'. This is a compulsory novel for those writing 2023 UTME.
Is NIN compulsory for JAMB 2023?
Yes, National Identification Number (NIN) is now compulsory for JAMB.
Can I pass JAMB without studying?
Do not be deceived, you can't pass JAMB without studying.
Is JAMB difficult to pass?
The JAMB examination is not difficult as long as you prepare well enough to pass the examination.
19. When is the JAMB 2023 exam starting?
JAMB 2023 exam is starting on 29th April 2023 - Monday 12th May 2023.
20. Is an email address compulsory for JAMB 2023?
Yes, an email address is now compulsory for registering for JAMB 2023. All candidates are advised to have a functional email address.
Conclusion
Before you can enrol into any University, College or Polytechnic in Nigeria, you must take the jamb exam. This shows how important it is to Nigerian students.
We hope this article provides some insight into this examination and answers any questions you have about jamb reg, and how to use the JAMB registration portal. Ensure you stay updated on any further information on this exam.
Read these articles to take courses online: