University of Oxford/Reuters Institute 2022 Journalism Fellowships for Journalists in African & Developing Countries
The Reuters Institute, based at the University of Oxford, offers a limited number of Journalist Fellowships each year.
The fully-funded Fellowships are aimed at practising journalists from all over the world, to enable them to research a topic of their choice, related to their work and the broader media industry, before returning to newsrooms. The Fellowships offer an opportunity to network with a global group of journalists, spend time away from the daily pressure of deadlines, and examine the key issues facing the industry, with input from leading experts and practitioners.
You do not need to specify which particular source of funding you are applying for – we will allocate the one most suitable for you based on your country of origin and research proposal.
Thomson Reuters Foundation Fellowships
Anglo American Journalist Fellowship
Google Digital News Journalist Fellowship
Mona Megalli Fellowship
Wincott Business Journalist Fellowship
David Levy Fellowship for International Dialogue
Table of Content
About University of Oxford
Oxford University has a rich tradition of developing leaders. Our MBA programme builds on this legacy, providing you with a solid foundation in core business principles while developing a broadened mindset and understanding of the role of business in society. You will be challenged to delve deep into the areas that interest you most and gain the strategic skills and insight to lead a successful, purposeful career. The programme exposes you to: a global connected network a diverse student group diverse career opportunities thought leaders a rigorous academic experience... read more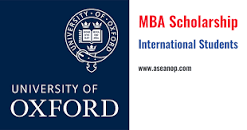 Subscribe for scholarship alert.
Be among the first to know whenever new University of Oxford scholarship is going on. Enter your email address and click the Subscribe button ↓
Oxford/Reuters Institute Journalism Fellowships
Aim and Benefits of Oxford/Reuters Institute Journalism Fellowships
Most Journalist Fellowships are fully-funded and cover living costs and accommodation.
You will be embedded in a cutting-edge institution that is shaping key media debates. The Reuters Institute produces factsheets and reports on the main challenges of the industry.
You will be part of an institution with a global outlook. Our Journalist Fellows come from all over the world. They share ideas and experiences of working in different countries and different mediums.
You will be part of one of the world's greatest universities. Oxford offers unrivalled study facilities, leading research centres, extensive learning support and a global reputation.
You will be just one hour from London by train, providing convenient access to some of the world's leading news publishers like The Guardian, the Financial Times and the BBC.
Requirements for Oxford/Reuters Institute Journalism Fellowships Qualification
To be considered for a Fellowship you must have a minimum of five years' journalistic experience, or in rare cases demonstrate the equivalent level of expertise.
You will be able to write at a publishable level of English, allowing you to participate in the fellowship and produce papers when necessary. If English is not your first language, please present suitable evidence (this is an original certificate no more than two years old and issued by the relevant body) that you are at a suitable standard. More information on the university's English language requirements is in the Programme Webpage Link below.
Checkout:
How To Write A Scholarship Essay - Scholarship Essay Examples
Application Deadline
February 14, 2022
How to Apply
Interested and qualified? Go to
University of Oxford on survey.alchemer.com
to apply
20 Scholarships for African Students 2021/2022
How to Write a Good Scholarship Application Letter (Sample Examples Included)
Want to study abroad?
Find Ongoing Scholarships to Study Abroad Here
Subscribe for scholarship alert.
Be among the first to know whenever new University of Oxford scholarship is going on. Enter your email address and click the Subscribe button ↓
Scholarships You May Like
Subscribe for scholarship alert.
Be among the first to know whenever new University of Oxford scholarship is going on. Enter your email address and click the Subscribe button ↓