University of Columbia Alliance for Historical Dialogue and Accountability (AHDA) Fellowships For Professionals 2020
The Alliance for Historical Dialogue and Accountability (AHDA) fellowship brings together scholars, students, civil society organizations, journalists, educators, artists, policy makers, and others who work on historical dialogue issues for a semester of comprehensive learning and networking at Columbia University in New York City.
The Program is designed for lawyers, journalists, teachers, social workers, community organizers, artists, scholars and other human rights activists working on issues related to dealing with the past such as: transitional justice, historical dialogue, memory studies, historical justice, oral history, history education.
Table of Content
About University of Columbia ISHR
The Institute for the Study of Human Rights (ISHR) was established in 1978 at Columbia University. ISHR is committed to its three core goals of providing interdisciplinary human rights education to Columbia students, fostering innovative academic research, and offering its expertise in capacity building to human rights leaders, organizations, and universities around the world. ISHR was the first academic center in the world to be founded on an interdisciplinary commitment to the study of human rights. This remains one of ISHR's most distinctive features. We recognize that on a fundamental l... read more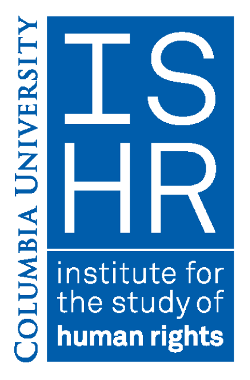 University of Columbia ISHR Fellowship
Aim and Benefits of University of Columbia ISHR Fellowship
After the ISHR selection committee conducts its selection process, it makes every effort to secure funding for shortlisted Fellows to attend the program. In certain cases where ISHR cannot secure funding, shortlisted Fellows may be asked to secure the funds needed for them to be admitted to the program.
Interview date, Process and Venue for University of Columbia ISHR Fellowship
Participants are selected on the basis of their previous work experience in work that deals with the past, their commitment to the human rights field, and demonstrated ability to pursue graduate-level studies. Full-time students will not be considered.
Applicants who are mid-career and hold full or part-time jobs pursuing their advocacy efforts are preferred.
Fellows must work in the country and/or region where they live.
Fluency in English is required.
Fellows must provide proof of institutional endorsement in English from their organizations for their participation in the Program and must commit to returning to that organization upon completion of the Program.
The program lasts a full academic semester, from late August to mid-December, and fellows are required to be in residence in New York City for this period.
Application Deadline
January 31, 2020
How to Apply
Interested and qualified? Go to
University of Columbia ISHR on www.humanrightscolumbia.org
to apply
In order to access the application, applicants must register an account on the ISHR website and log in. Once logged in, applicants can begin a new application by Start/Resume An Application from the menu.
After beginning an application, the applicant can either choose to save the form as a draft, or submit a completed application. If you choose to save the form as a draft, you can return to this page to complete it.
Upon submission of a completed application, a confirmation will be sent to the applicant. Applicants may login to the online application to view or edit their submitted applications until the deadline by choosing Manage My Submission from the menu.
The completed application must be submitted online by the deadline. Applicants should take into consideration technical issues and begin the process in advance of the deadline. Late applications will not be considered.
Due to the number of applications we receive, we are not able to answer application questions personally. A Frequently Asked Questions (FAQ) page is available with answers to commonly asked questions. Please email further questions to [email protected].
For more details, please visit the scholarship website here
Read Also:
Top 20 Reasons To Study Abroad
Scholarships You May Like