Oops!
Seems like
EduCanada
is not currently accepting applications for this particular scholarship. Never miss this scholarship again, let's alert you when application is going on. Enter your email address and click the Subscribe button ↓
Meanwhile below is a list of ongoing popular scholarships you can apply for now
See all ongoing scholarships here
Study in Canada Scholarships 2021-2022 for Post-Secondary International Students
The Study in Canada Scholarships program provides students from post-secondary institutions located in the new eligible countries/territories with short-term exchange opportunities for study or research in Canadian post-secondary institutions at the college, undergraduate and graduate levels.
The Study in Canada Scholarships program is facilitated through institutional collaborations and student exchange agreements between post-secondary institutions in Canada and in the following eligible countries/territories: Algeria, Bangladesh, Burkina Faso, Egypt, Ethiopia, Ghana, Ivory Coast, Jordan, Kenya, Libya, Morocco, Nepal, Nigeria, Rwanda, Senegal, Taiwan, Tanzania, Tunisia, Turkey, Uganda, and Ukraine. These agreements are created between colleges, technical or vocational institutes and universities. Students, hereby referred to as "candidates", must be registered as full-time students in their home institution at the time of application and during the entire duration of their study or research stay in Canada.
Table of Content
About EduCanada
EduCanada is a brand that supports the international education offerings of Canada's provinces and territories. The EduCanada brand is the result of collaboration between the provinces and territories through the Council of Ministers of Education, Canada (CMEC) and Global Affairs Canada. It is a protected trademark of the Government of Canada and is subject to a Master Licence Agreement between the parties. The EduCanada website provides information to international students about studying in Canada. You can search for study programs, get cost estimates and learn about study permit re... read more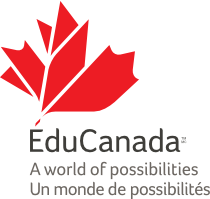 Subscribe for scholarship alert.
Be among the first to know whenever new EduCanada scholarship is going on. Enter your email address and click the Subscribe button ↓
EduCanada Post-secondary Institutions Scholarship
Aim and Benefits of EduCanada Post-secondary Institutions Scholarship
The Canadian institution will receive funding from DFATD for all successful candidates in the form of a contribution agreement and will be responsible for providing the funds to scholarship recipients.
The scholarship value varies depending on the duration of studies:
CAD 10,200 for college, undergraduate or graduate students (Master's and PhD) for a minimum of four months or one academic term of study or research; or
CAD 12,700 for graduate students (Master's and PhD) for a period of five to six months of study or research.
In addition to the funds allocated to the recipients by DFATD, the Canadian host institution may also claim CAD 500 per scholarship recipient to assist with administrative costs once the scholarship recipient arrives in Canada.
Canadian institutions will disburse scholarship funds to the scholarship recipient to contribute to the following costs:
visa or study/work permit fees;
airfare, for the scholarship recipient only, to travel to Canada by the most direct and economical route and return airfare upon completion of the scholarship;
health insurance;
living expenses, such as accommodation, utilities and food;
ground public transportation, including a public transportation pass; and
books and supplies required for the recipient's study or research, excluding computers and other equipment.
Requirements for EduCanada Post-secondary Institutions Scholarship Qualification
Candidates must be citizens of one of the following eligible countries/territories:
Asia: Bangladesh, Nepal, Taiwan
Europe: Turkey, Ukraine
Middle East and North Africa: Algeria, Egypt, Jordan, Libya, Morocco, Tunisia
Sub-Saharan Africa: Burkina Faso, Ethiopia, Ghana, Ivory Coast, Kenya, Nigeria, Rwanda, Senegal, Tanzania, Uganda
Candidates:
must be enrolled as full-time students at post-secondary institutions in the eligible countries/territories and paying any tuition fees required by these institutions at the time of application and for the full duration of the exchange;
who hold Canadian citizenship or permanent residency, or who have a pending application for permanent residency in Canada are not eligible;
already participating in an exchange scholarship program funded by the Government of Canada are not eligible; and
already enrolled in a program at a Canadian post-secondary institution are not eligible
The following terms and conditions must be met during the period of the scholarship.
The Canadian post-secondary institution must:
be a Designated Learning Institution (DLI);
waive tuition and/or administrative fees for scholarship recipients, as selected students must be registered full-time and paying tuition to their home institution;
inform both the candidate and their home institution of any mandatory fees that, in exceptional cases, cannot be waived, prior to applying for a scholarship on the candidate's behalf;
enter into an agreement with the recipient stating that:

funding for the scholarship is provided by the Department of Foreign Affairs, Trade and Development (DFATD);
the recipient must provide the Canadian institution with records to account for major expenses such as travel and lodging; and
the recipient agrees to have their contact information shared with DFATD, for reasons such as: to be invited to join the Government of Canada Scholars' Alumni Association (GCSAA), to attend events organized by the Canadian Embassy, High Commission or Canadian Trade Office in their home country/territory and by DFATD in Canada, or for promotional and statistical purposes; and

submit qualitative and quantitative reports during the scholarship period.
Scholarship recipients:
must engage in full-time studies or research as defined by the Canadian institution;
must be proficient in the language of instruction at the Canadian institution (English or French) before their arrival in Canada, as the scholarship does not cover language training. Language requirements are set by each Canadian institution;
may not hold any other scholarship granted by the Government of Canada;
carrying out a semester-based study exchange must arrive in Canada by September for the fall semester or by January for the winter semester;
conducting research must arrive in Canada for the uptake of their award between June 1, 2021 but no later than February 1, 2022. Failure to arrive during this time may result in the cancellation of the scholarship. In exceptional cases, and with prior approval from DFATD, the arrival deadline may be extended to March 1, 2022;
enrolled in pharmacy, medicine, dentistry or other health fields are excluded from clinical training or clinically-oriented research involving direct patient-care;
must ensure that they have appropriate health insurance for the full duration of the scholarship, as per the policies of the Canadian institution;
must focus primarily on full-time studies or research during their stay in Canada; and
are expected to return to their home institutions after the scholarship period in order to complete their studies.
Checkout:
How To Write A Scholarship Essay - Scholarship Essay Examples
Interview date, Process and Venue for EduCanada Post-secondary Institutions Scholarship
The following guidelines are followed for the review, assessment and selection of applications:
All online applications received by the deadline will be pre-screened to ensure they meet eligibility requirements established for the program.
Eligible and complete applications, including the supporting documents, will be evaluated based on the following criteria:

merit of the research or study to be undertaken in Canada;
benefit to the home institution and peers;
benefit to the Canadian institution, supervisor and peers; and
strength of linkages to be created through the proposed exchange.

The Canadian institution will be required to rank its eligible applications based on its institutional strategic priorities.
Conditions
Only applications submitted directly by Canadian institutions will be considered.
The scholarship administrator is not able to provide feedback for unsuccessful candidates.
These scholarships are subject to the availability of funding from the Government of Canada.
Application Deadline
March 30, 2021
How to Apply
Interested and qualified? Go to
EduCanada on w05.international.gc.ca
to apply
Only Canadian institutions can submit applications on behalf of candidates. They may choose to set their own internal deadline to receive supporting documents.
Candidates:
interested in this scholarship program should first contact their home institution;
must provide a letter of intent explaining the nature of studies or research to be undertaken, the rationale for study in Canada and for the choice of institution, program and supervisor, and how the proposed program of study or research relates to their future career; and
do not apply on their own behalf, as all applications are submitted by the Canadian institutions on behalf of the candidates.
Home institutions:
are responsible for identifying strong academic candidates who meet the admission requirements of the Canadian partner institution and for providing the candidates' documents to the Canadian partner institution.
Canadian institutions:
must apply on behalf of the candidate(s) by submitting the online application form and uploading all supporting documents prior to the deadline;
may submit multiple applications and will be required to rank their applications based on their strategic priorities; and
should identify one staff member responsible for the administration of the program.
Canadian institutions are encouraged to carefully read the instructions below before beginning the online application. Further information is available on the International Scholarships Canada Application Tool Help webpage.
If institutions experience difficulty filling out or submitting the form, they should send an email to [email protected].
Canadian institutions must:
Complete an online application for each candidate.

Institutions that do not have an account will first need to Register an account.
Once the account is created and activated, they will need to log in. Under "For Non-Canadians" section, scroll down to the Study in Canada Scholarships program and click on Apply Now.

Enter data in the fields marked mandatory, following instructions for each item, or copy and paste it from another source. Note that:

the name of the candidate must be exactly the same as it is on their passport; and
the official name of the candidate's home institution must be provided in their national language.

Upload all required supporting documents.
Upon completion, verify the data prior to submission.
Click SUBMIT to send their form electronically to the Department of Foreign Affairs, Trade and Development (DFATD). The institution will receive a confirmation message and reference number once the form is submitted.
Print the form for their records using the print function in the browser.
For more details, visit EduCanada website
20 Scholarships for African Students 2021/2022
How to Write a Good Scholarship Application Letter (Sample Examples Included)
Want to study abroad?
Find Ongoing Scholarships to Study Abroad Here
Subscribe for scholarship alert.
Be among the first to know whenever new EduCanada scholarship is going on. Enter your email address and click the Subscribe button ↓
Scholarships You May Like
Subscribe for scholarship alert.
Be among the first to know whenever new EduCanada scholarship is going on. Enter your email address and click the Subscribe button ↓