Skoll MBA Scholarship, Oxford University 2020-2021
The University of Oxford (Oxford University) is accepting applications for its Skoll Scholarship specifically awarded to students who wish to acquire an MBA (Masters of Business Administration) in Management Studies at the university.

The Skoll Scholarship is a competitive scholarship for incoming MBA students who pursue entrepreneurial solutions for urgent social and environmental challenges. It is given in recognition that the MBA may represent a significant financial burden, particularly for those who have chosen to work in social ventures rather than the commercial or public sectors.

To the Skoll Scholars, the Scholarship provides funding and exclusive opportunities to meet with world-renowned entrepreneurs, thought-leaders and investors.

To be selected, the candidate should provide evidence that they really need financial support from the university in the form of scholarship.
Table of Content
About University of Oxford
Oxford University has a rich tradition of developing leaders. Our MBA programme builds on this legacy, providing you with a solid foundation in core business principles while developing a broadened mindset and understanding of the role of business in society. You will be challenged to delve deep into the areas that interest you most and gain the strategic skills and insight to lead a successful, purposeful career. The programme exposes you to: a global connected network a diverse student group diverse career opportunities thought leaders a rigorous academic experience... read more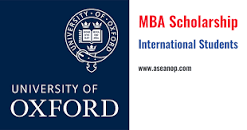 University of Oxford Masters Scholarship
Aim and Benefits of University of Oxford Masters Scholarship
The Skoll Scholarship covers the full costs of tuition and college fees for the MBA programme at Saïd Business School, University of Oxford. The Scholarship also covers partial living expenses of at least an additional £14,777.
In addition to financial support, the Scholarship provides access to the Skoll Scholar community, a group of leaders who are positively impacting the world through innovation and systems change, as well as exclusive opportunities to meet with world-renowned entrepreneurs, thought leaders, and investors.
University of Oxford Masters Scholarship Courses
Requirements for University of Oxford Masters Scholarship Qualification
To be considered, you need to meet the following criteria:
By the time the candidates apply for the MBA, they must have spent preferably at least 3 years either: starting and growing a social venture; OR leading a major expansion of an existing social venture or programme within an organisation; OR pursuing positive change as an impact career professional, i.e. someone who has used entrepreneurial approaches to address the same social/environmental issue, with a clear core thread that unites his/her work. In each of these 3 cases, candidates should be able to describe the outcomes/impact that has been created as a result of their work.
Candidates will have used entrepreneurial approaches to identify opportunities, taken action to positively shift the status quo, and produced proven impact that contributes to rectifying unjust systems and practices in their chosen area of work.
Candidates must demonstrate evidence of personal qualities strongly resonating with entrepreneurial leadership, and illustrate how these have influenced their career path thus far. These qualities include: Single-mindedness and persistence in pursuit of a social/environmental benefit goal, including a willingness to face failure and start again; A bias towards action rather than reflection on an issue and a willingness to apprentice with a problem* if they are tackling a challenge they didn't personally live; A tendency to explore the environment for opportunities and resources; A willingness to take personal, and sometimes financial, risks; A propensity to develop networks and draw upon their members to pursue mutual goals.
Candidates must demonstrate how a business education can contribute to the wider development of their work. They will need to illustrate why a business degree at this stage of their career trajectory can help them amplify their impact.
Candidates must demonstrate some evidence of their need for the Scholarship. This may be exhibited, for example, in previous work experiences or personal backgrounds which make self-funding the MBA a significant financial burden
Checkout:
20 How To Study Abroad Frequently Asked Questions
Application Deadline
January 10, 2020
How to Apply
Interested and qualified? Go to
University of Oxford on apply.sbs.ox.ac.uk
to apply
To apply for the Skoll Scholarship follow these steps:
Connect with us to register your interest in the Scholarship and make sure you're kept up to date with announcements about upcoming deadlines.
Apply for the MBA programme directly to Saïd Business School. You'll need to do this during stages 1,2, or 3 of the MBA admissions process for the 2020-21 academic year. See details below on applying for an MBA admissions fee waiver.
Upload your answers to the Skoll Scholarship essay questions as part of your MBA application, and submit your MBA application! You'll find the Scholarship essay questions under the "Funding" section of the MBA application. We would advise that you allow yourself about 1-weeks' time to answer the Skoll Scholarship essay questions.
The MBA Admissions Team will then assess your application to ensure you meet the academic requirements sought by the Saïd Business School and determine if you are accepted onto the MBA programme or not.
If you've received confirmation that you have been accepted onto the MBA programme, keep an eye on your emails as the Skoll Centre will send you a link to the second part of the Scholarship application, which is a Logistics and Reference Form. See timelines below to know when to expect this email.
Complete the Logistics and Reference Form. This consists of a series of short questions about you, how you heard about the Scholarship, your references, etc. Please note, your referees will not be contacted unless you get to the final stages of the selection process.
That's it! The Skoll Centre will then consider your candidacy for the Scholarship and advise you accordingly.
For more details, please visit the scholarship website here
Read Also:
Top 20 Reasons To Study Abroad
Scholarships You May Like