Oops!
Seems like
Nigeria Youth Futures Fund (NYFF)
is not currently accepting applications for this particular scholarship. Never miss this scholarship again, let's alert you when application is going on. Enter your email address and click the Subscribe button ↓
Meanwhile below is a list of ongoing popular scholarships you can apply for now
See all ongoing scholarships here
Nigeria Youth Futures Fund (NYFF) 2023-2024: Empowering Nigerian Youth Leaders with Grants
The Nigeria Youth Futures Fund (NYFF) announces its Young Leaders Development Funds 2023-2024, focusing on youth ecosystem enhancement in Nigeria. Open to individuals and organisations, the grant prioritises Good Governance and resolving fundamental National questions. With categories like Small, Development, and Catalyst grants, participants can earn up to $50,000. Eligibility spans ages 15-35, organizational registration, and more.
The Nigeria Youth Futures Fund (NYFF) proudly announces the Young Leaders Development Funds for 2023-2024. A golden opportunity for young visionaries and established organisations alike, this fund seeks to invigorate the youth leadership ecosystem of Nigeria, reinforcing its foundations for the future.
NYFF's grant, structured around specific thematic areas, is designed to reflect the vital youth agenda established through the visioning sessions of the NYFF. These grants act as catalysts, allowing recipients to spearhead social change within their communities in alignment with these themes.
Thematic Areas of Focus
Facilitate Good Governance: Proposals under this banner should strive for:

Encouraging Active Citizenship and Leadership Development.
Championing Policy Development, Advocacy, Executive and Legislative Reforms at National, State, and Local Government levels.
Enhancing Institutional Strengthening, Transparency, and Accountability.

Resolve Fundamental National Questions: Here, the focus revolves around:

Peace Building initiatives.
Advocating for Equity, Social Inclusion, Cohesion, and Justice.
Inculcating National Values: Patriotism, Unity, and Empathy among Nigerian citizens.
It's worth noting: Projects that artfully incorporate Media, Art, Entertainment, Creativity, and Technology in their approach are particularly encouraged. Collaborative ventures through clusters are also welcomed.
Table of Content
About Nigeria Youth Futures Fund (NYFF)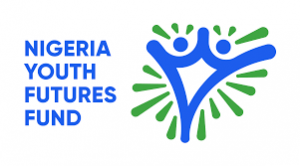 Subscribe for scholarship alert.
Be among the first to know whenever new Nigeria Youth Futures Fund (NYFF) scholarship is going on. Enter your email address and click the Subscribe button ↓
NYFF Young Leaders Development Funds
Aim and Benefits of NYFF Young Leaders Development Funds
Grant Categories and Allocation
Small grant: $1,000 for 60 individual applicants.
Development Grant: $10,000 aimed at 64 organisations.
Catalyst Grant: A substantial $50,000 grant for 6 prominent Youth Hubs.
Requirements for NYFF Young Leaders Development Funds Qualification
For Individuals
Young activists aged between 15-35, with a solid background in youth development initiatives.
Proficiency in strategic planning, project management, and execution.
Demonstrable experience in community or team-building, underscored by principles of integrity.
Must have a valid form of identification or be affiliated with a recognised institution.
Two credible referees are a requisite.
For Organisations
Registration with the corporate affairs commission of Nigeria or a sanctioned local/state commission is mandatory.
Maintain a physical presence, a corporate bank account, and a transparent financial history.
Willingness to collaborate with fellow youth initiatives and the NYFF community.
A clear record of positive contributions and past achievements.
Provision of two reputable referees.
Catalyst Grant applicants need to fulfil additional criteria:

Be civic hubs championing youth-centred activities.
Display partnership capabilities across their geopolitical region.
Possess the means to offer support in capacity building and institutional strengthening to other entities.
Checkout:
How To Write A Scholarship Essay - Scholarship Essay Examples
Documents Required for Application
Submission of Identification Documents:

Individuals: NIN certificate or its equivalent.
Organisations: A compilation of documents like CAC registration, organisational records, certificates from past funders, and more in a singular PDF format.
Application Deadline
September 30, 2023
How to Apply
Interested and qualified? Go to
Nigeria Youth Futures Fund (NYFF) on leapafrica.smapply.io
to apply
The application journey entails:
Pre-application: Answer preliminary questions.
Proposal Submission: Draft a proposal not exceeding 3000 words, adhering to the provided guidelines:

Section A: Detail background, challenges, planned initiatives, and work scope.
Section B: Sketch out the Monitoring and Evaluation framework detailing expected project results.
Section C: Outline a meticulous project work plan, showcasing activities, timelines, and budget allocations.

Referee Details: Furnish details, including Name, Affiliation, Contact Information, and Email.
This is more than just a grant. It's an opportunity to be at the forefront of change, guiding Nigeria towards a future that values its youth and recognises their unparalleled potential. Join hands with NYFF and be a part of this transformative journey.
For more details, visit NYFF website
UK Scholarships for International Students 2023/2024
20 Scholarships for African Students 2023/2024
Wants to study in Canada?
Find Ongoing Scholarships in Canada here
Subscribe for scholarship alert.
Be among the first to know whenever new Nigeria Youth Futures Fund (NYFF) scholarship is going on. Enter your email address and click the Subscribe button ↓
Scholarships You May Like
Subscribe for scholarship alert.
Be among the first to know whenever new Nigeria Youth Futures Fund (NYFF) scholarship is going on. Enter your email address and click the Subscribe button ↓