Oops!
Seems like
Georgetown University
is not currently accepting applications for this particular scholarship. Never miss this scholarship again, let's alert you when application is going on. Enter your email address and click the Subscribe button ↓
Meanwhile below is a list of ongoing popular scholarships you can apply for now
See all ongoing scholarships here
Leadership & Advocacy for Women in Africa 2021 Fellowship Program For Study - Georgetown University USA
The LAWA Program helps defray the costs for candidates who would not otherwise be able to afford an LL.M. degree and additional professional development training.
The LAWA Fellowship provides the tuition for the mandatory Foundations of American Law and Legal Education course held from mid-July to mid-August (a U.S. $5,000 benefit) and for the Master of Laws (LL.M.) degree from the Georgetown University Law Center (a U.S. $66,872 benefit).
Table of Content
About Georgetown University
The goal of the Global Human Development Program is to prepare students – through coursework, internships, extra-curricular activity, and practical field work – to understand the challenges of international development and provide the tools to address those challenges as successful professionals. Experts and seasoned practitioners in development today confirm that the field of international development requires professionals with strong analytical skills, specialized knowledge of particular areas of development, and relevant skills that come from direct hands-on experiences. Thi... read more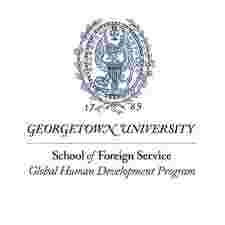 Subscribe for scholarship alert.
Be among the first to know whenever new Georgetown University scholarship is going on. Enter your email address and click the Subscribe button ↓
Georgetown University Leadership & Advocacy for Women Fellowship
Aim and Benefits of Georgetown University Leadership & Advocacy for Women Fellowship
Candidates who are awarded a LAWA Fellowship must be prepared to cover the costs of all additional expenses (such as visas, travel, housing, utilities, food, clothing, and health insurance, etc.).
Candidates must be able to demonstrate to the U.S. Embassy for visa purposes that they have the full amount of funds available to cover these expenses at the time of their visa application. This totals U.S. $30,000. Please refer to this sample budget.
These costs are significantly less for those that can reside with family in the Washington, DC area. Candidates still must show at least $8,000 for living expenses. For the summer internship portion, students need to show $2,232 per month, for the 2 to 3 month internship period.
Requirements for Georgetown University Leadership & Advocacy for Women Fellowship Qualification
In order to be eligible to apply for the scholarship, applicants must:
You must be a women's human rights lawyer from Africa in order to be considered. You must hold an LL.B. or other law degree. A preference is given to candidates who:

are currently living and working in Africa, and
do not already have a Masters' Degree.
The strongest applicants tend to be about five to ten years out of law school, but those with less or more experience will be considered. Candidates with no work experience who are applying directly from an LL.B. degree or other law school will not be considered.
Men and women who are committed to women's rights are strongly encouraged to apply.
As a requirement of participation in the LAWA Program, all applicants must commit to return home to their own countries upon completion of the Fellowship, and to use their best professional efforts to advance women's human rights throughout their careers.
You must have strong English language skills, both written and oral. Language problems have been the primary barrier to success for LAWA Fellows.
The LAWA Program requires candidates to become proficient in using computers for drafting papers and conducting research. Candidates are strongly encouraged to learn basic computer skills before arrival in order to make this transition easier. At the very minimum, candidates should work to improve their typing speed.
Candidates must be prepared to enter a very demanding course of study. LAWA Fellows take four required courses and several more elective courses over the course of the two academic semesters. Each class requires advance preparation of reading hundreds of pages. Fellows are required to produce a Masters' Thesis totaling no fewer than 40 pages, including several drafts with intense research, writing and editing. Successful completion of the program requires exceptional focus, and very hard work. Please do not apply if you are not prepared to make this serious academic commitment.
Checkout:
How To Write A Scholarship Essay - Scholarship Essay Examples
Documents Required for Application
Complete the Application Form, including all three essay questions.
Current Resume or CV
Two Letters of Recommendation
Transcript from the institution granting your law degree
Application Deadline
January 22, 2021
How to Apply
Send your completed application via e-mail to [email protected]
There is no need to apply separately to Georgetown. Please see our FAQ. If you are unable to find the answers on our website, please email [email protected]. You must check your email regularly beginning February 1st, 2021, to see if you have been selected for an interview! If you are on travel, you MUST have someone checking for you. If you do not respond, we will select another candidate to interview and you will relinquish this opportunity.
For more details, visit Georgetown University website
20 Scholarships for African Students 2021/2022
How to Write a Good Scholarship Application Letter (Sample Examples Included)
Want to study abroad?
Find Ongoing Scholarships to Study Abroad Here
Subscribe for scholarship alert.
Be among the first to know whenever new Georgetown University scholarship is going on. Enter your email address and click the Subscribe button ↓
Scholarships You May Like
Subscribe for scholarship alert.
Be among the first to know whenever new Georgetown University scholarship is going on. Enter your email address and click the Subscribe button ↓