DAAD Spring School for African Germany-Alumni
The University of Bonn and the German Development Institute / Deutsches Institut für Entwicklungspolitik (DIE), both partners in the Bonn Alliance for Sustainability Research, in a joint Spring School are inviting African Germany-Alumni from any field of study and Alumni of the Managing Global Governance Academy (MGG) of the DIE to Bonn, Germany in March 2020.
About The Joint Spring School:
Within the Agenda 2030 for Sustainable Development, multi-stakeholder participation is an important approach to contribute to sustainable changes in economies, societies and the environment.
SDG 17 emphasizes the importance of strengthening global partnerships to support and achieve the ambitious targets of the Agenda 2030. The Alumni Spring School aims at fostering partnerships and networks by overcoming regional and disciplinary borders.
Knowledge transfer among participants from developing and emerging powers at the science-policy-interface is a main part of this concept. Participants will benefit from generating and sharing scientific knowledge products through dynamic peer learning groups.
Solution-based analyses of challenges from multi-participants perspectives acknowledge the diversity of cultures within the global dialogue.The program is based on four core elements:
1. Materials for preparation.
2. Content-related input and discussion.
3. Peer learning.
4. Theoretical and practical elements of scientific communication.
Calling on all African Germany-Alumni of any German University currently living in Africa and Alumni of the Managing Global Governance Academy (MGG) to apply for this opportunity.
Table of Content
About University of Bonn
The University of Bonn was founded in 1818 and is one of Germany's most important institutes of higher education. As a place of learning to over 38,000 students, it enjoys an outstanding reputation both at home and abroad. It is one of the world's leading research-based universities and, thus, it is no surprise that it operates on an international level. Founded over 200 years ago, the University of Bonn belongs to Germany's most recognized institutions for research and higher education. It is situated in the center of Europe and internationally renowned for top-level science, research-orien... read more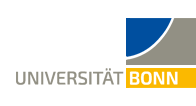 University of Bonn Postgraduates
Aim and Benefits of University of Bonn Postgraduates
The program will provide the following services:
Modules, workshops, excursions
Welcome and farewell events incl. meals
Hotel accommodation for the duration of the Spring School (17 March – 27 March, 2020)
Travel cost reimbursement (up to 1,200 Euro)
Visa costs up to 60 Euro
Public transportation ticket
Participants have to take care of any further expenses during the Spring School and accommodation before or after the Spring School.-
Costs will be covered by the German Academic Exchange Service (DAAD) with funds provided by the German Federal Ministry for Economic Cooperation and Development (BMZ).
Requirements for University of Bonn Postgraduates Qualification
You can apply for the program if you are:
An African Germany-Alumnus of any German University currently living in Africa
An Alumnus of the Managing Global Governance Academy (MGG).
and in addition to that:
Interested in sustainability topics
A Germany-Alumnus is a person graduated from or spent at least three months at a German University e.g. during an Erasmus semester, as a PhD candidate, in a study program, as an employee, research fellow etc. Please make sure to upload an official certificate of your stay at the German University.DAAD in country/ in region scholars are not considered as Germany-Alumni.Please note before you put precious time into
Checkout:
20 How To Study Abroad Frequently Asked Questions
Documents Required for Application
Letter of motivation (max. 500 words)
Letter of recommendation (e.g. from your employer, university etc.)
Résumé/curriculum vitae
Alumni certificate (e.g. transcript of records, graduation document, ERASMUS certificate etc.; DAAD certificates are NOT a valid Alumni certificate!)
Official picture (e.g. passport photograph)
Application Deadline
October 28, 2019
How to Apply
Interested and qualified? Go to
University of Bonn on www.uni-bonn.de
to apply
To apply, complete the online application form with your personal data and upload the following documents:
Letter of motivation (max. 500 words)
Letter of recommendation (e.g. from your employer, university etc.)
Résumé/curriculum vitae
Alumni certificate (e.g. transcript of records, graduation document, ERASMUS certificate etc.; DAAD certificates are NOT a valid Alumni certificate!)
Official picture (e.g. passport photograph)
For more details, please visit the scholarship website here
Read Also:
Top 20 Reasons To Study Abroad
Scholarships You May Like