Oops!
Seems like
University of Leeds
is not currently accepting applications for this particular scholarship. Never miss this scholarship again, let's alert you when application is going on. Enter your email address and click the Subscribe button ↓
Meanwhile below is a list of ongoing popular scholarships you can apply for now
See all ongoing scholarships here
Accelerating computational fluid dynamics through deep learning-2019/2020
The University of Leeds is awarding the
Accelerating Computational Fluid Dynamics Through Deep Learning program to eligible and qualified individuals.
Computational fluid dynamics (CFD) simulations have been proposed as a tool for the pre-operative evaluation and planning of cardio- and cerebrovascular diseases, such as brain aneurysms. By studying the changes in blood flow induced by pathological vascular defects and linking them to the biological response, we can attempt to predict the time course of the disease before and after treatment.
However, CFD simulations are computationally expensive and clinical practitioners have neither the training required nor access to the supercomputing resources needed to utilise such tools currently.
In this project, they apply deep learning through convolutional neural networks to accelerate the fluid simulations by training the network to mimic the outputs of a traditional CFD solvers. Parametric virtual phantoms will be developed for various vascular diseases and the neutral network will learn dependency of the flow and related biological processes based on the parameters of the phantom geometry. Such models can then be translated into applications that provide real-time predictions of vascular flow and support clinical decision making.
​​​​​​
Table of Content
About University of Leeds
The University of Leeds is a public research university in Leeds, West Yorkshire, England. It was established in 1874 as the Yorkshire College of Science. In 1884 it merged with the Leeds School of Medicine (established 1831) and was renamed Yorkshire College. It became part of the federal Victoria University in 1887, joining Owens College (which became the University of Manchester) and University College Liverpool (which became the University of Liverpool) The university's history is linked to the development of Leeds as an in... read more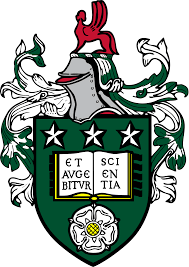 Subscribe for scholarship alert.
Be among the first to know whenever new University of Leeds scholarship is going on. Enter your email address and click the Subscribe button ↓
University of Leeds PhD Scholarship
Aim and Benefits of University of Leeds PhD Scholarship
Funding will be awarded on a competitive basis.
A full standard studentship consists of academic fees (up to £22,750 in Session 2019/20), together with a maintenance grant (up to £15,009 in Session 2019/20) paid at standard Research Council rates.
University of Leeds PhD Scholarship Courses
Requirements for University of Leeds PhD Scholarship Qualification
Successful candidates will have an excellent first degree in Engineering, Mathematics, Computer Science, or a related discipline. Candidates are expected to have a solid mathematical background, strong programming skills (in C++/Python/Matlab) and a keen interest in high-impact research work. These will be witnessed by the applicant's academic transcript and/or GPA. Previous experience in a research environment and a corresponding track record of publishing results in excellent journals and conferences are valued, but not essential.
Checkout:
How To Write A Scholarship Essay - Scholarship Essay Examples
Interview date, Process and Venue for University of Leeds PhD Scholarship
International applicants only
Academic Technology Approval Scheme (ATAS)
The UK Government's Foreign and Commonwealth Office (FCO) operates a scheme called theAcademic Technology Approval Scheme (ATAS). If you're an international (non-EU/EEA or Swiss citizen) applicant and require a student visa to study in the UK then you may require an ATAS certificate to undertake a PhD at the University of Leeds. Leed graduate school will provide you with further information once you've applied.
Find and apply for funding
You do not need to complete this step if:
you have already secured funding
you have applied for a funded research project.
If you're hoping to secure funding for your PhD, there are many options available to you. You can browse available scholarships within the Faculty of Engineering via our funding database. Scholarships are awarded on the basis of academic merit and are very competitive, so it's important that you make enquiries and apply as early as possible.
Other sources of funding
University of Leeds
The University's postgraduate scholarships website gives you access to a searchable database of all University postgraduate research funding opportunities at the University.
Research Council funding
Every year the University receives over £7m from the Research Councils to fund new postgraduate scholarships (both Masters and research). Candidates should check the relevant Research Council website for further information:
Trusts, charities and foundations
There are many trusts, charities and foundations that award partial funding for postgraduate study. There are huge numbers of applications for these sums of money, so you'll need a strong case to make a successful application.
Useful external sources
Accept your offer
If your application is successful you'll be sent an offer letter. You can accept your offer online using your web login ID and web login PIN.
If you do accept your offer you'll be agreeing to the terms and conditions outlined in your acceptance letter and you should only do so if you have secured funding for your studies.
keep in touch
Once you've accepted your offer, they'll send you a welcome pack with details of your start date and all the things you need to know before you arrive such as accommodation information and induction events. You'll also receive a regular e-newsletter informing you about the latest news and events from across the University right up until your arrival.
If you require any help during this process please contact our Graduate School:
t: +44 (0)113 343 8000
e: [email protected]
Documents Required for Application
All applications require you to upload or provide the following documents:
copies of your degree certificate(s)
transcripts of marks achieved in degree-level qualifications
evidence of English language qualifications
references, if available (alternatively, the Faculty will contact your named academic referees directly).
If possible, please include a CV (this will provide invaluable information as to work experience and publications).
Application Deadline
July 1, 2019
How to Apply
Interested and qualified? Go to
University of Leeds on studentservices.leeds.ac.uk
to apply
Formal applications for research degree study should be made online through the university's website. Please state clearly in the research information section that the PhD you wish to be considered for is the 'Accelerating computational fluid dynamics through deep learning' as well as Dr Toni Lassila as your proposed supervisor.
If English is not your first language, you must provide evidence that you meet the University's minimum English Language requirements.
We welcome scholarship applications from all suitably-qualified candidates, but UK black and minority ethnic (BME) researchers are currently under-represented in our Postgraduate Research community, and we would therefore particularly encourage applications from UK BME candidates. All scholarships will be awarded on the basis of merit.
If you require any further information please contact the Graduate School Office
e: [email protected], t: +44 (0)113 343 8000.
How to Write a Good Scholarship Application Letter (Sample Examples Included)
How To Apply For Scholarships - And Get Taken
Want to study abroad?
Find Ongoing Scholarships to Study Abroad Here
Subscribe for scholarship alert.
Be among the first to know whenever new University of Leeds scholarship is going on. Enter your email address and click the Subscribe button ↓
Scholarships You May Like
Subscribe for scholarship alert.
Be among the first to know whenever new University of Leeds scholarship is going on. Enter your email address and click the Subscribe button ↓